What Are Grace Plates?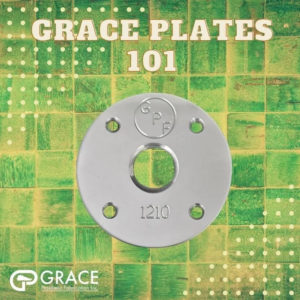 Learn more about Grace Plates and how they work.
When fabricating prosthetic devices, our choice of materials plays a huge role in the way the devices turn out. Naturally, using high quality and durable materials is important to create long-lasting devices that provide maximum comfort and functionality to patients.
In central fabrication, one of the most important components will be the socket adapter, built into the socket to connect to the rest of the device. Because these can influence comfort and range of motion, they need to be strong enough to sustain a wearer's body weight and should not cause pain during prolonged use—all of which the Grace Plates offer.
The Grace Plates have been used in countless prostheses all over the world. Get to know more about these socket adapters and why they have become an industry standard.
How Do Sockets and Socket Adapters Work?
Before taking a closer look at the Grace Plate, it helps to understand how sockets and socket adapters work in prosthetics.
The socket is the device that connects the prosthesis to your residual limb, so it needs to be fit correctly and be based on your anatomy. Any problems with the socket can directly affect its functionality and make it difficult to move with your device.
The socket adapters are built to connect this with the rest of the prosthesis or orthosis. Another way of looking at it is that you use them to assemble the device in the right direction and position. They then allow you to adjust the device's alignment to match the patient's anatomy.
The adapter is a key component in any prosthesis design, since it ultimately affects how well the device fits the patient and whether they can perform regular movements. If you do not place the socket adapter correctly, the wearer will have difficulty standing up properly without exerting too much energy.
History of the Grace Plate
The Grace Plate was invented by Grace Prosthetic Fabrication, one of the leading specialists in central fabrication with over 30 years of experience in the industry.
The company used to use the standard square plate to create their devices back then. However, it was sometimes difficult to make the square plate flush with the socket—even before lamination.
Given this dilemma, it was much easier for them to drill the four holes when they could see inside the socket. For this, Grace Prosthetic Fabrication designed rounded plates, and could then align the components after creating the socket instead of before.
Features of the Grace Plate
Grace Plates are essentially thermoplastic socket adapters featuring a four-hole European design, helping connect the socket to the patient's residual limb.
They are all manufactured in the United States using high-quality aircraft aluminum, making them simultaneously strong and light as a feather. The 1210 Original Grace Plate does have a weight limit of 225 lbs. and a torque of 9 ft per lb., but the company has since created many variations to suit different applications.
They also have the 1210-P, a modified version of the original designed specifically for pediatric devices. Examples of their other plates include:
1934 Spacer Plate (225 lbs.)

1210-BD Grace Lock (225 lbs.)
1210-FD Fabrication Dummy Plate (225 lbs.)
OA19 Offset Adapter Plate (225 lbs.)
1210-D Domed Grace Plate (300 lbs.)
1210-P Lanyard Puck (300 lbs.)
1210-B Single Bore Tie-in Plate (300 lbs.)
Benefits of Using Grace Plates
Looking back at its history, the Grace Plate was made to address a specific need- allowing for easy alignment after you fabricate the socket. This is a huge benefit since you can focus on customizing the socket to match your patient's requirements before drilling holes to assemble everything.
As seen above, the Grace Plate comes in many varieties, providing many choices to perfectly adapt for your device. Whether you are building an above knee, below knee, upper extremity, lower extremity, or even children's prosthetics, you will be able to find a suitable plate to match your needs.
Another benefit of using Grace Plates is easy installation, as the original plate comes with long and short attachment screws.
All you need to do is place the plate into your prosthetic socket, making sure to align the four holes with the distal attachment. Then, once you have it in position, you can insert the screws and torque them accordingly.
Additionally, Grace Plates are universal, which means you can use them to fit almost all prosthetic components. This is why they're widely recognized in the industry and used in thousands of devices worldwide.
Use Grace Plates for Your Prosthesis Today
The Grace Plate has gained worldwide recognition in the central fab industry and is used to create thousands of orthotic, prosthetic devices today.
Give us a call at 1-800-940-5437 to learn more and get recommendations on which plates will best fit your needs.