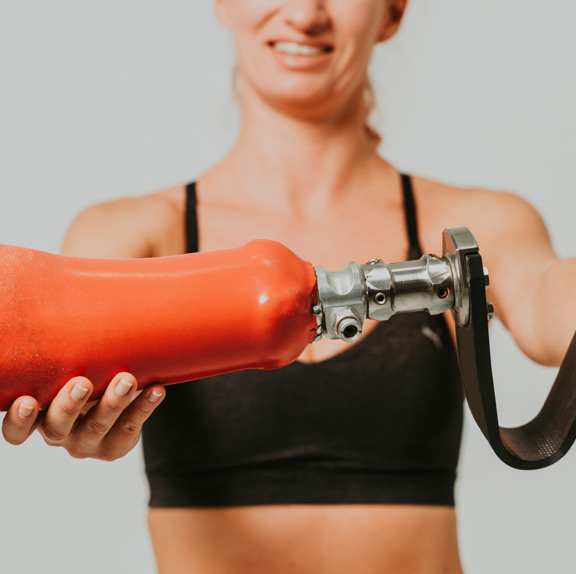 Leading Provider of Central Fabrication in Gainesville
No matter what your prosthetic or orthotic needs may be, Grace Prosthetic Fabrication is here to provide top-quality devices and appliances. Having been in this space for over 30 years, we have refined our processes to deliver top central fabrication in Gainesville. With our professional team, advanced technologies, and durable components, we can guarantee that you'll always get a superb experience.
Grace Prosthetic Fabrication offers a wide range of central fabrication services to cater to clients with varying needs. We make sure that you always get the best possible products for your patients.
Here is just a sample of the products that we have to offer:
Our team can create prosthetics for above knee, below knee, upper extremity, and athletic purposes. For more specific requirements, we fabricate specialized prosthetics to match your needs. Our state-of-the-art facility also has superior color matching technology that allows us to accurately produce realistic spray skins to match your skin tone.
Beyond prosthetics, Grace also specializes in creating orthotics for upper or lower extremities to support limb functions. Our technicians fabricate a range of orthotic devices, including hip-knee-ankle-foot orthosis (HKFAO), wrist orthosis, knee orthosis, ankle-foot orthosis (AFO), and many others.
The Grace Plates are four-hole laminated socket adapters that fit most prosthetic devices. We initially created this out of a need fabricating our prosthetics. However, the plates have grown to become a staple in the industry as you will see them used in many products globally. They come in various weight limits and designs to suit many different applications.
Aside from these, we also offer other products like pediatric devices and Grace Gauntlets, which we can customize to match your specific needs. We also have a special Grace plate dedicated to your pediatric patients since their appliances are much smaller and more intricate.
Grace's Commitment to Clients
Since we first opened our doors to clients in 1990, we have been driven by the commitment to deliver quick services and quality products. Until now, we have continued to uphold this promise by maintaining high standards in our central fabrication processes in Gainesville.
We put our clients at the center of what we do. By choosing us as your partner, we can promise you these things:
Contact Us Today for Prosthetics and Orthotics in Gainesville
As an industry expert, Grace Prosthetic Foundation understands the complexities of central fabrication in Gainesville. Thus, you can send your projects to our certified technicians and rest assured that we will craft a quality product for your patients.
Feel free to contact us today at 1-800-940-5437 to send us a fabrication request or schedule a consultation via Zoom call.