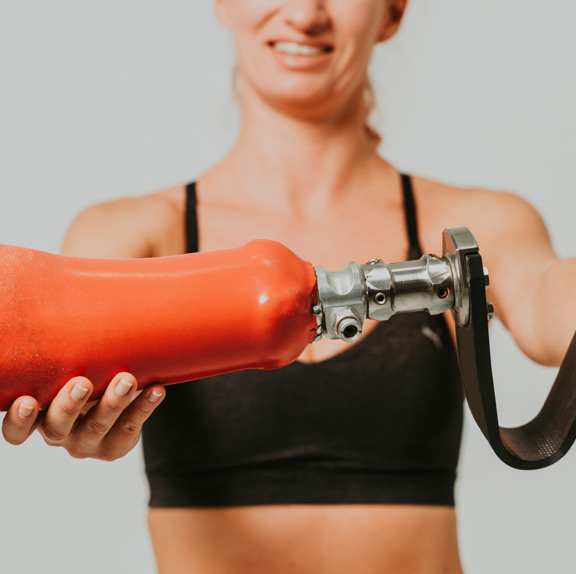 Central Fabrication for Prosthetics and Orthotics
With over three decades of experience in the industry, Grace Prosthetic Fabrication specializes in creating high-quality prosthetics and orthotics in Florida. Through the years, we have worked with countless clients and helped them with their patients' central fabrication needs. You can trust that we use the best practices and highest quality materials every step of the way.
Read on to learn more about our services below for your prosthetics and orthotics in Florida.
​
Our central fabrication services include the following:
We offer a wide range of prosthetic services, including upper extremity, above knee, and below knee prosthetics. We can also create athletic prosthetics that provide top performance and functionality your patients' sports and active lifestyles. For patients with more specific needs and requirements, our technicians can create specialized prosthetics just for them.
Regardless of what appliance you need, we can make them look as natural as possible through Grace's spray skins. Our facility has a spray skin lab used to add a cosmetic coating to your prosthetics, leaving a matte finish that feels like your natural skin. We have a range of pigment colors to choose from to match different skin tones.
Grace also specializes in fabricating orthotic devices to support limb function. These appliances are designed to improve the quality of life of patients who may be suffering from injuries or illnesses that affect their mobility.
Like prosthetics, our orthotics can be made for an upper extremity or lower extremity, depending on your needs. Rest assured, our technicians can fabricate any orthosis, from a standard hip-knee-ankle-foot orthosis (HKFAO) to a customized device for a specific body part.
Aside from this, we also have our special Grace Gauntlets produced in the US and custom-made by an elite artisan with more than 15 years of experience. We craft each gauntlet with skill and precision, using the highest standards and best-quality components.
Utilizing Leading Industry Technologies in Central Fabrication
Whatever your orthotic and prosthetic needs may be, you can trust that we use cutting edge technology to achieve the perfect fit for your patients. As a pioneer in this space, Grace is one of the first to employ computer-aided design and manufacturing (CAD-CAM) technologies for central fabrication.
Aside from this, we also offer 3D printed prosthetic designs to make it easy for customers to order their appliances. This technology allows us to modify digital files with the residual limb that will be printed into a device. With this, we can easily make copies of the digital model and make last-minute changes for added accuracy.
Through our industry-leading technologies, we deliver top-quality prosthetics and orthotics in Florida. Our certified technicians pay the closest attention to details, making sure that every device we fabricate provides the optimal fit and comfort for your patients.
Grace Prosthetic Fabrication is a leading provider of prosthetics and orthotics in Florida. As an ABC-accredited facility, you can trust that we uphold the highest standards in our practices and deliver quality appliances for your patients.
By choosing us, we can promise the following:
Since day one, Grace has been committed to fabricating prosthetic devices that meet the highest standards of patient care. Today, we continue to dedicate ourselves to research, development, and training to innovate our processes and products.
Get in Touch Today for Your Prosthetic and Orthotic Needs
When it comes to prosthetics and orthotics in Florida, we know how important it is that you find the right partner to do the fabrication. Having been in the industry for more than 30 years now, Grace has become a household name in this space. We can guarantee nothing less than the highest quality appliances.
Contact us today at 1-800-940-5347 to get started. We can schedule an online consultation via Zoom to work out the details.