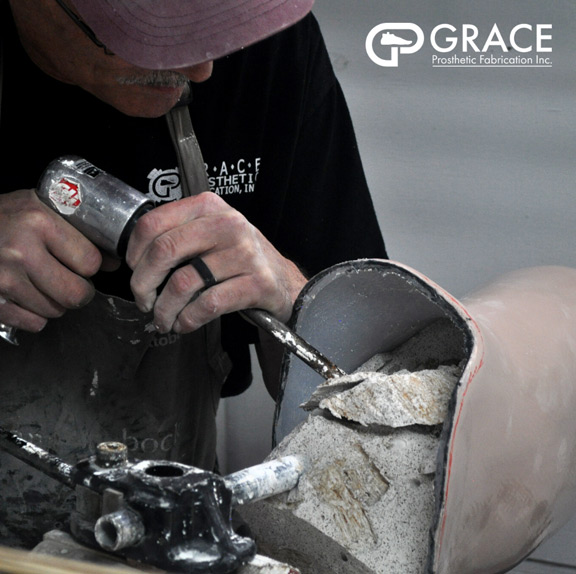 Leading Provider of Central Fabrication in Orlando
You can trust Grace Prosthetic Fabrication to deliver the best value for your money when it comes to your prosthetic and orthotic needs. We are an industry leader in central fabrication in Orlando, with over three decades of experience. With our team of ABC-certified technicians and advanced technologies, we can guarantee a high-quality finished product.
​At Grace Prosthetic Fabrication, we provide comprehensive central fabrication in Orlando to help healthcare providers offer their patients with the best appliances.
Specifically, we offer the following products:
We offer prosthetics for 
above knee
, 
below knee
, 
upper extremity
, 
athletic
, and 
spray skins
. If you have more specific requirements that our templates can't fulfill, our team can design a specialized device to address your needs. We utilize GRACE CAD-CAM technologies to get the optimal fit for all your devices.
Grace is not just a leader in prosthetics but also orthotics. Our team can fabricate all types of 
upper extremity
 and 
lower extremity
 orthotic devices to assist in specific movements or body functions. Moreover, we have our special Grace Gauntlets that you can customize to your needs and measurements.
As a leader for central fabrication in Orlando, we created the Grace Plates, which have been used in many prosthetic devices worldwide. These are four-hole socket adapters that fit most prosthetic components. Over the years, our plates have been used and adapted for countless applications.
Aside from these main products, we also design and fabricate pediatric devices for your little ones. These require smaller components and more intricate processes, but our technicians are more than capable of creating them. We even have a dedicated Grace Plate to fabricate pediatric devices, so you can trust that we will design the device fit for your needs.
Utilizing CAD-CAM Technologies for the Optimal Fit
We know how important it is to get the right design and fit for your patients' appliances. Thus, we use advanced industry technologies to aid us in our fabrication process.
We fabricate and fit all prosthetics and orthotics with our computer-aided design and computer-aided manufacturing (CAD-CAM) technologies. These contain front-end programs, including Shapemaker and TracerCAD, that allow us to digitize and modify the mold to fit your specifications.
Our technicians can create devices with the optimal fit and comfort for your patients through these technologies. Rest assured; we use the highest standards for all our processes to make sure you are satisfied with the end product.
Why Choose Grace Prosthetics?
Grace Prosthetic Fabrication has been providing central fabrication services for over 30 years. Since day one, we have been dedicated to exceeding our client's expectations to deliver the highest quality prosthetics and orthotics. By choosing us, we can promise you the following:
In addition, we are proud to be accredited by ABC Central Fabrication. We passed their inspection and earned a perfect score from the review, which shows our commitment to improving our processes to become better. No matter how intricate or straightforward your requirements may be, we go above and beyond to make sure that we give you exactly what you need.
Contact Us Today for Prosthetics and Orthotics in Orlando
When it comes to central fabrication in Orlando, Grace Prosthetic Fabrication can deliver quality products for all your prosthetic and orthotic needs. As your partner, we will ensure you receive all your orders on time and that our fabrications will exceed industry standards. By partnering with us, you can focus on your business while we handle the work.